Army musician Major Robert Walmsley's medals fail to sell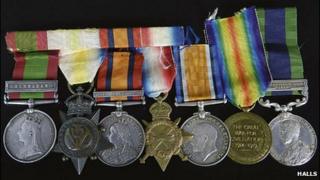 Medals, weapons and papers detailing an army musician's service across the British Empire have failed to sell.
Major Robert Walmsley, born in Bury, Greater Manchester in 1862, joined the Army as a trumpeter in 1880 and served in South Africa, India and Afghanistan.
The auction lot, including his dress sword and scabbard and awards from the Second Boer War and World War I, did not reach its £4,000 reserve price.
The items from his 39-year career were due to be sold by Halls in Shrewsbury.
A spokesman for the auctioneers said the medals were withdrawn from sale and it is up to their owner whether they will up for auction again.
Walmsley was awarded his first two medals, an Afghanistan War Medal and a Kabul to Kandahar Star, during his first three years of service with the Royal Artillery between 1880 and 1882. He went on to be awarded with a further five in his career.
His early awards were followed by the Queen's South Africa Medal in 1900, which he was given for his part in the Siege of Ladysmith in the Second Boer War when he served as a conductor in the Indian Ordnance Department.
The siege took place between October 1899 and February 1900 in Natal and cost the lives of 227 British soldiers.
Knobkerrie
By the start of the World War I in 1914, Walmsley had risen to the rank of captain and he subsequently became a major during the course of the war.
His service in the campaign led to him being given the 1914-15 Star, the British War Medal and the Victory Medal.
His final medal, an Indian General Service Medal, was awarded in 1919.
The lot includes a collection of Walmsley's papers and weapons, including a sword from Afghanistan and a knobkerrie, an African club used by tribal warriors.
Also included are medals awarded to his family members, including the three World War I medals awarded to his son Ronald, the Red Cross Medal given to his daughter Lily and the Madras Fine Arts medal won by his wife Constance.
Medal specialist Derek Ainsworth said it was "one of the most interesting medal collections I have ever seen".