Plan to boost Birmingham economy given go-ahead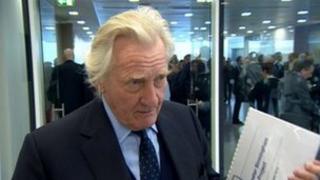 A £5bn plan to help rejuvenate the economy of the Greater Birmingham area has been approved.
The project will serve as a pilot for a national scheme, based on a report by Conservative peer Lord Heseltine.
His study, published in October, recommended devolving the allocation of central funds from government to regions via Local Enterprise Partnerships (LEP).
The money will be made available in Greater Birmingham and Solihull.
In his budget speech Chancellor George Osborne said: "To support enterprise is to give our great regional cities and other local areas much greater control over their economic destiny and back sectors that are a global success."
The funding idea was recommended by Lord Heseltine in his report called No Stone Unturned.
The government had announced it would implement most of the former deputy prime minister's plans to stimulate the economy.
Lord Heseltine was asked by David Cameron to look into ways of improving the economies of English cities other than London.
Responding to the news of the Birmingham pilot approval, Paul Kehoe, director of Coventry and Warwickshire LEP, said: "Local people in charge of local projects makes sense.
"It's all very well having someone in Whitehall dictating what's happening, but local people know what's on the ground.
"The Midlands and the Coventry and Warwickshire area are an exporter. We make things... So it's important that we know what we're doing locally.
"We're bringing up plans and looking at ways of encouraging active investment in engineering, in new manufacturing, advanced vehicles, low carbon vehicles."