Ex-Cumbria health boss Tony Halsall still on full salary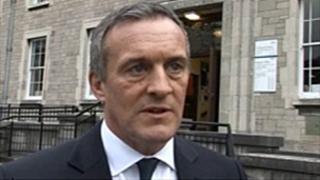 The former boss of a scandal-hit hospital is still being paid his full salary a year after he resigned.
Tony Halsall stepped down as chief executive of the University Hospitals of Morecambe Bay NHS Foundation Trust in February 2012.
However, the trust has revealed Mr Halsall will continue to claim his £150,000 salary until October.
A police investigation into deaths at the baby unit at Furness General Hospital has been ongoing since 2011.
When Mr Halsall stepped down, a confidentiality agreement was signed meaning the details of his severance would not be revealed.
Career advice
However, following national pressure over such agreements, the trust has released details about his leaving package.
It includes his full salary, a lease car and career management advice, and six months' pay in lieu of notice, the trust confirmed.
The trust said Mr Halsall had been seconded to the NHS Confederation, in a move which "avoided the potential for a long drawn-out dispute, that would have been both expensive and time consuming".
This was also "of benefit to the NHS through the work Mr Halsall was able to perform."
However, Labour MP for Barrow and Furness, John Woodcock, described the pay-out as "shameful".
Tim Farron, Liberal Democrat MP for Westmorland and Lonsdale, said: "The level of this package will shock people. £225,000 is too much for the failure that he presided over."
'Gagging' clause
John Cowdall, who became chairman of the trust on 1 March, said: "I would like to stress that Mr Halsall has received no more than his contractual entitlement.
"Notice periods of six months are common for appointments at this level and enable employers to advertise for and recruit a successor."
Referring to the confidentially issue, he added: "I am aware that this clause has caused a great deal of disquiet in the minds of many individuals, including representatives of the media.
"I can confirm that any compromise agreements that are entered into from now, will not be the subject of any confidentiality provisions or so called 'gagging' clauses, which may prevent disclosure of matters which are in the public interest."