Lee Weavers assault trial halted at Ipswich Crown Court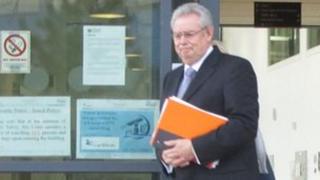 The jury has been discharged in the trial of a former senior police officer with the Essex force who is accused of attacking a neighbour with a baton.
Lee Weavers, 60, from Coprolite Street in Ipswich, denies possessing an offensive weapon and assault.
Mr Weavers was charged after an incident at a party on Duke Street, Ipswich, last summer.
His counsel said Mr Weavers was unable to continue with the trial for medical reasons.
The next hearing at Ipswich Crown Court is due to take place on 3 May, when the judge will consider a timetable for a retrial with a new jury.
Mr Weavers served with Essex Police from 1969 to 2000, during which time he held the roles of head of CID and acting assistant chief constable.