NHS postpones West region out-of-hours GP helpline launch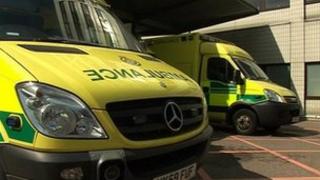 The launch of a new out-of-hours GP helpline in Wiltshire and Somerset has been postponed after a series of issues were raised during the trial.
It follows incidents of ambulances being sent to deal with inappropriate cases such as earache and hiccups.
The NHS said it would work with service operator Harmoni to ensure it is delivered to a satisfactory level "as soon as possible".
The private health firm handles calls to the new 111 number from patients.
The non-emergency number combines the old NHS Direct service with surgeries' own out-of-hours arrangements. It was due to begin officially on 19 March.
The number is currently in operation while the firm works on fixing the issues raised.
A spokeswoman for NHS Wiltshire said the situation would be kept under "constant review" until managers were satisfied "an optimal and sustainable level of service" had been achieved.
"We remain committed to making our service with our partner Harmoni a success," she added.
Harmoni said the launch of the new number had created some areas where it had yet to achieve high levels of service.
It added that it was working to address the issues.