East Midlands Airport travellers delayed after cancellations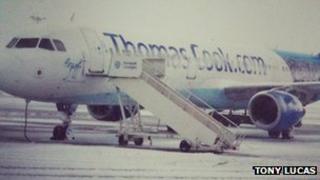 Passengers travelling from East Midlands Airport faced long delays after flights were diverted, or cancelled, after heavy snow.
Up to 12cm (5in) of snow was cleared from the runway, with some passengers being diverted to Manchester and Luton.
Despite having re-opened the runway, airport bosses warned passengers to check with their airline before travelling.
Cancelled flights included those to Paris, Belfast, Palma and Antalya.
Tony Lucas and his wife Cheryl were due to travel to Antalya on a flight scheduled to leave at 09:00 GMT, before they were diverted to Manchester.
'Return duty-free'
Mr Lucas said: "My wife Cheryl and I travelled from Norfolk yesterday to stay at an airport hotel at East Midlands Airport."
He said they had travelled early because of the weather forecast.
He added their flight had been cancelled at about 08:30 GMT and passengers were told to reclaim their luggage and "return any duty-free".
Mr Lucas said about 10 coaches carrying about 300 passengers were diverted to Manchester, where there was only one check-in desk open for them.
Passengers also faced disruption at other regional airports, including Humberside.