Freedom of City of Coventry given to HMS Diamond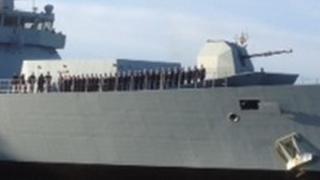 The freedom of the city of Coventry has been awarded to a Royal Navy ship.
It comes after workers from Jaguar Land Rover built the captain's table for HMS Diamond, a Type 45 destroyer.
When the ship was built it was also presented with a cross of nails, made from remains of the city's cathedral and originally given to HMS Coventry.
HMS Coventry was sunk during the Falklands War on 25 May 1982. It was recovered later that year by a Royal Navy diver.
Crew member Shane Douglas, from Tile Hill, said: "It is important because [Coventry is] such an inland city that you don't see much of the navy - it's good to put faces to the name."