Dion Dublin plays own Dube drum with People's Orchestra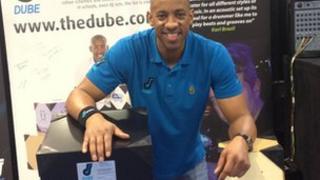 Former England footballer Dion Dublin has played an instrument he invented with an orchestra for the first time.
He appeared with The People's Orchestra in a free concert at The Public in West Bromwich.
Dublin, who also played for Aston Villa, Coventry City and Manchester United played The Dube, a cube-shaped drum played with the hands.
The orchestra, marking its first anniversary, encourages school leavers to carry on playing instruments.
'Extremely lucky'
Dublin said: "Not having had the opportunity to play with a full orchestra before I am excited to be taking the Dube, the percussion drum I invented seven years ago, with me to perform on the day."
He said music has always played "a huge part in my life" and helped him cope as he recovered from a broken leg whilst playing for Manchester United.
"Having been extremely lucky in the career I had as a footballer, I'm now concentrating on my second passion, music," he added.
The orchestra is self-funded, and supported by donations and sponsors.
Sarah Marshall, orchestral director, said: "We have a professional approach for an amateur orchestra which means we will only recruit the best musicians without discrimination due to background or financial status."
They have played at the Adrian Boult Hall and Symphony Hall in Birmingham, and at the premier of the film The Hobbit in the city.