Oxford University college 'resolves' cash row with student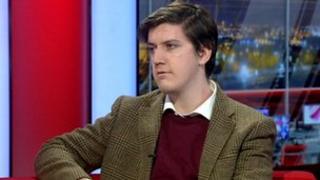 An Oxford University college will review its postgraduate admission policies after ending a dispute with an applicant from Salford who said he was denied a place on financial grounds.
Damien Shannon, 26, alleged St Hugh's College was discriminating by requiring students to prove they could cover living expenses before offering places.
Mr Shannon sued the college, claiming a breach of his human rights.
Mr Shannon and the college said they had "resolved the dispute".
Speaking in a joint statement, they said the resolution meant legal proceedings were "at an end with immediate effect".
The college currently requires proof from potential postgraduate students that they can cover costs of £12,900 before they are accepted on to courses.
Mr Shannon claimed he had had an offer of a place withdrawn by the college after he could not prove he had that money available.
Place offered
At Manchester County Court in February, he asked the court to order the college to remove the financial rule, claiming it contravened the Human Rights Act, and to allow him to take up his postgraduate place in the next academic year.
Lawyers representing St Hugh's had asked the judge to dismiss Mr Shannon's request to have the financial restriction removed.
Judgement in the case by Judge Armitage QC was reserved.
In the joint statement, Mr Shannon and the college said court proceedings were now over after "St Hugh's College advocated successfully for the University of Oxford to carry out a review of the present financial guarantee policy".
"On completion of the review, recommendations will be put to the University's Council and the Conference of Colleges for consideration," it continued.
Mr Shannon has also been offered a place on the course he originally applied for.
The statement added that the review process was "anticipated [to] be completed by September 2013".
The Salford and Eccles MP Hazel Blears, who wrote to the university's vice chancellor asking him to remove what she called an "unfair rule" and secured an adjournment debate on the issue in Parliament, welcomed the review.
"I am delighted that the university is to look again at its financial guarantee," she said.
"Our country as a whole also misses out if their talent is not nurtured and the university must cease making proof of living costs a condition of entry."