Joanna Lumley to launch Zandra Rhodes digital archive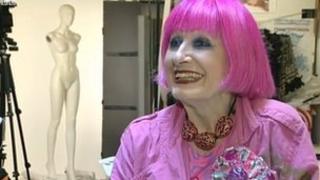 A digital archive of clothes created by Zandra Rhodes is being put online by the university where she is chancellor and once studied.
Actress Joanna Lumley will launch the archive in London on Tuesday.
Garments designed by Ms Rhodes have been worn by Princess Diana, Jackie Onassis and Elizabeth Taylor.
The University for the Creative Arts (UCA), which has campuses in Kent and Surrey, appointed Ms Rhodes as its first chancellor in 2010.
The designer studied at Medway College of Arts, one of the colleges that formed UCA.
'Unprecedented access'
Five hundred dresses and garments have been catalogued and photographed over the past 18 months for the Zandra Rhodes Digital Study Collection.
It includes drawings and behind-the-scenes footage shot in her studio.
The educational resource is for use by fashion and textile students, designers and researchers.
The university said Ms Rhodes's career spanned five decades and was still relevant today, with her creations worn by Kylie Minogue, Sarah Jessica Parker and Paris Hilton.
Professor Kerstin Mey said Ms Rhodes gave researchers and students "unprecedented access" to her studio to create the archive, funded with a £110,000 grant from education charity Jisc.