Philip Baron: Drug boss thought he was 'above law'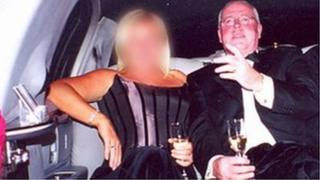 For about 15 years the men at the head of an international drugs trafficking operation lived lives of luxury and "thought they were above the law", detectives said.
Network boss Philip Baron and his close associates owned palatial homes in the North West, Dublin and Spain and posed as high-profile businessmen while drug deals worth up to £380,000 took place.
The methods they used to avoid detection were straight out of a crime novel - they wrote cryptic notes using numbers and letters and spoke in code on the phone.
They used football terms to communicate, so 'tickets' was code for drug money and 'united' code for sterling.
As the net closed around Baron, accomplice Walter Callinan tried to disguise a warning to him during a phone call.
He urged him not to go to Spain, where he would face arrest, by saying: "Be very wary of driving in these conditions mate, you know the roads are terrible.
"You've got that other car haven't you, you've got the four wheel drive car you've got, the local plated one, I'd drive that mate if I was you. And I wouldn't go into the sun on your holidays any more mate, definitely not."
It was the gang's business-like organisation that proved their undoing, when police found spreadsheets detailing each transaction, profit and loss account ledgers and notes about laundered money.
'Living The Dream'
Police believe the operation was founded by Baron in Salford when he owned a businesses cleaning tankers in Trafford Park about 17 years ago. It was there, they say, he met Callinan and Paul Yearsley.
Callinan, 61, who was originally from Stoke-on-Trent, Staffordshire, but had been living in Malaga, Spain, was found to have £5m in assets and six false passports when police caught up with him.
A ledger found at his Spanish home detailed 86 transactions involving 16.7 tonnes of cannabis over 17 months, resulting in a profit of £3.2m, and became a key piece of evidence in the case against the group.
Callinan was sentenced to 11 years in prison in 2011 after pleading guilty to importing drugs.
Yearsley, who owned a £5.5m house in Bolton and property in Spain, was so confident he could avoid police detection he had his home featured in a glossy county magazine under the headline "Living The Dream".
He was sentenced to five years and four months in prison after admitting drug trafficking.
Another man at the top tier of the operation was Paul Hewett, 56, of Farnham, Hampshire, who arranged the importing of drugs to the UK. He lived between Spain and the UK, owning a yacht and a Porsche.
'Pope wouldn't get out of it'
He was sentenced to 20 years in prison after pleading guilty to importing drugs.
The chief money launderer was Malcolm Carle, 60, who left a £70,000-a-year job as a bank's IT project manager for a life of crime, police said.
He kept detailed spreadsheets that helped police identify the £10m they believe was laundered by the group.
Carle is serving six years in prison after pleading guilty to money laundering.
A further 26 people involved in the network have previously been sentenced for various offences.
As detectives closed in, the criminals' tone - heard in recorded phone calls - turned from confident to defeated.
Police had tracked Baron and Callinan to Costa Rica, where they contacted a Columbian drugs cartel previously responsible for importing cocaine to Spain.
They also filmed members of the network meeting to hand over drugs and cash.
About 135 hours of calls Callinan made from prison were transcribed. In an early call he said: "They've got dozens of people all over Europe but they've come up with f-all."
But later, in a call to a relative, he admits defeat: "They've got that much documentation the Pope wouldn't get out of it. At the end even the lawyer was laughing, he said he's never seen anything like it."
Baron had fought extradition from Ireland to the UK since May 2011 but has finally faced justice.
SOCA's Steve Goodwin said bringing down Baron's network has made a difference to the amount of drugs seen on the street, adding: "He thought he was above the law but he wasn't."