South Downs National Park bids for dark sky reserve status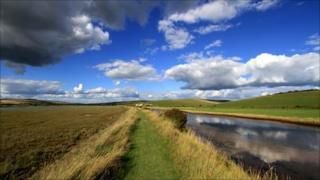 Views of the night sky above the South Downs National Park could be protected if a bid to turn it into a dark sky reserve is successful.
Park rangers and astronomers are measuring light pollution on the South Downs, which stretch from Hampshire to East Sussex.
The park will then apply to become an international dark sky reserve.
In February the Brecon Beacons joined the Exmoor National Park in having reserve status.
The status means the night sky is protected and lighting restrictions are introduced to prevent light pollution.
Joanna Glyde, from the South Downs National Park Authority, said there were "many stringent requirements" to become a reserve.
"Needless to say, with the amount of residents dispersed across the downs, this makes the task that much more difficult," she said.
"This is a big challenge, unlike places like Exmoor and the Brecon Beacons, we don't know yet exactly where the dark areas suitable for designation actually are.
"They will be in small isolated pockets because we don't have large tracts of uninhabited open access land like these other National Parks.
"However the fact that we have these small pockets of darkness surrounded by a large population makes their protection even more important."
She said initial measurements in Hampshire and West Sussex are consistent with being awarded the status.
One rule of a dark skies reserve is the adoption of planning guidance for appropriate lighting based on the Institute of Lighting Professionals recommendations.