PCC Stephen Bett fears welfare changes will cause crime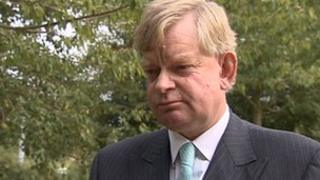 The police and crime commissioner for Norfolk fears government welfare changes will increase crime and put undue strain on resources.
Stephen Bett has written to the county's MPs to express his fears and has invited them to comment.
He is concerned vulnerable people given universal benefit in cash will turn to crime when the money is spent.
The Department for Work and Pensions said vulnerable people would be helped to deal with the changes.
Mr Bett also said cuts to housing benefit for people with spare bedrooms was "unreasonable".
In an open letter to MPs to invite dialogue Mr Betts warned of "catastrophic repercussions" if demands on police in Norfolk increase.
A Department for Work and Pensions spokesperson said: "Our welfare reforms will help people take greater responsibility for their finances, which will make the move into work and off benefits easier.
'Unreasonable' tax
"However, we are absolutely clear that protection must be in place to help vulnerable people who might need extra support.
"We are working with councils and housing associations now to ensure people have the help they need."
Mr Bett said he had consulted councils and voluntary groups and had identified causes for "grave concern".
"My worry is that the changes to housing and welfare benefits will result in some people turning to crime in order to bridge the shortfall caused by reductions in the sums they will receive," he said.
"Whilst accepting the government has to prioritise the tackling of the country's financial deficit, it must not create a nonsense framework which causes more problems than it solves.
"The so-called bedroom tax seems to me particularly unreasonable. Why penalise claimants who have no alternative but to live in accommodation with a spare bedroom?"
He is similarly concerned about the impact of the new Universal Credit paid into a bank account and accessible only online.
MPs to respond
"As Police and Crime Commissioner, the single monthly payment raises two issues for me.
"First, there is a significant number of people we deal with who are unable to get a bank account.
"Secondly, a single monthly payment is likely to be a substantial lump sum (£800-£1,000) which some will spend within a short time.
"Some of them may resort to alternative - potentially criminal - activities for the rest of the month."
He fears this development could put added pressure on budgets and would mean extra work with a smaller number of police officers and frontline staff.
The commissioner is inviting MPs and other local leaders to strike up a dialogue with him either in person or in writing and pledges to post responses to his open letter on his website.