Richard III's relatives seek judicial review over burial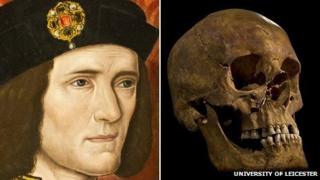 Relatives of Richard III are to seek a judicial review into the decisions authorising his reburial in Leicester.
Earlier this year, skeletal remains found beneath a car park in the city were confirmed as the king's by a team at the University of Leicester.
Since the find, a disagreement has surfaced about whether he should be buried in Leicester or York.
The last Plantagenet king's descendants say they should have been consulted by the government over the re-burial.
Richard was killed at the battle of Bosworth in 1485 and was hurriedly buried in the church of the Greyfriars, which was subsequently lost during redevelopment.
Under the government licence, overseen by the Ministry of Justice, the authority to make the decision over where his remains are re-interred rests with the university.
However, the Plantagenet Alliance, which includes 15 of Richard III's relatives, want the licence to be overturned and the king to be laid to rest in York Minster.
Online petition
Stephen Nicolay, a 16th great nephew of the monarch, said: "We have every hope that they [the solicitors] will succeed in these cases and help us significantly in our quest to have Richard's remains buried at the most appropriate site, York Minster."
Matthew Howarth, from law firm Gordons, said: "We have now written officially to the Ministry of Justice and University of Leicester, notifying them that we plan to issue these claims.
"This enables us to obtain some further information from them relating to the matters in question.
"We will follow up by issuing the judicial review and other proceedings as soon as possible, but certainly within the next few weeks."
The University of Leicester said arrangements for reinterring the bones had been set out at the beginning of the project and these followed standard archaeological practice.
More than 8,000 people have signed an online petition in favour of keeping the king's remains in Leicester, but over 26,000 have signed up to support re-interring his remains in York.
The youngest son of Richard Duke of York, Richard III grew up in Yorkshire and had strong-connections to the city of York.