Rape victim speaks of 'rollercoaster' of abuse by her partner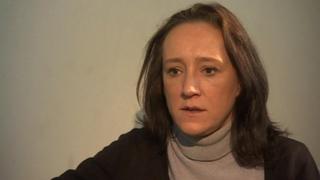 A woman who was beaten, raped repeatedly and held hostage by her partner in his Norfolk home, has spoken of the "rollercoaster of physical abuse" she endured for two weeks.
Emma Barrett, 38, of Cambridge, was attacked by Jason O'Dell in September.
Her 48-year-old attacker was sentenced on Wednesday to life imprisonment.
Miss Barrett, who waived her right to anonymity, said she was "100% under his control" and urged other women suffering abuse to contact the police.
"I met him on 29 July last year. I never intended to get into a relationship with him but I just got completely and totally manipulated," she said.
'Beaten to a pulp'
By early September she said the cycle of physical and mental abuse - inflicted by O'Dell, who had 20 previous convictions for 79 offences - had begun.
"On 5 September he just beat the absolute living daylights out of me. He beat me to a pulp basically," she said.
"That started this 19-day rollercoaster of physical abuse."
Miss Barrett suffered five broken ribs, a broken nose and two black eyes in the initial attack.
She said O'Dell then insisted she drive them both to his flat in Daisy Street, Wymondham, in Norfolk, to ensure her injuries would not be seen.
During the following two weeks the pair travelled between both properties with Miss Barrett enduring further beatings and three rapes.
"I did try and leave on a number of occasions, and he just beat me up so badly it completely broke me down as a human being, really," she said.
"Just to the point where I was completely and utterly under his control, absolutely 100%."
'Black and blue'
On one occasion Miss Barrett said O'Dell took her to a medical centre, but forced her to tell staff she had been injured in an accident at a pool party.
In hindsight, she expressed shock that no one had picked up on her situation.
"I was hobbling through Wymondham in Norfolk, absolutely black and blue - completely battered - and not a single person batted an eyelid until the police investigation started," she said.
Miss Barrett, who has now left Cambridge, said she regretted not asking for help earlier.
"If you're in that situation, get out as quickly as you can," she said.
"Just get out and go to the police."
Miss Barrett's friends eventually helped her contact the police after seeing her and O'Dell in a pub in Cambridge on 22 September.
O'Dell was jailed for life and was told by Norwich Crown Court he must serve a minimum term of nine years and will be on the sex offenders' register for life.
"You think in these sleepy little market towns, or even Cambridge, that stuff like that doesn't happen," Miss Barrett said. "Well, it does actually."