Sue Ryder £6m appeal for new Peterborough hospice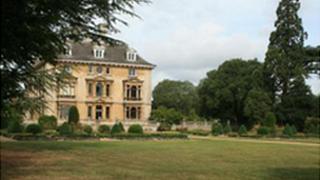 A charity which helps people with incurable illnesses has begun an appeal to raise £6m for a new hospice at its grounds in Peterborough.
The Sue Ryder group aim to build a 20-bed hospice near Grade I-listed Thorpe Hall, which it said it cannot modify.
Each year, Thorpe Hall cares for 1,500 people from Rutland and Norfolk, Cambridgeshire, Lincolnshire, Northamptonshire and Leicestershire.
Sue Ryder said it had received £1m and hoped to reach its target in two years.
The new hospice would have single en-suite bedrooms, each with access to Thorpe Hall's gardens.
It would allow Sue Ryder to provide care to more people, the charity added.
Palliative care services manager Philip Ball said: "Thorpe Hall is a magnificent building but it is no longer fit for purpose.
"Currently, the 20 beds we provide are shared between eight rooms over two floors.
"Sharing a room and the resulting lack of privacy can have a negative impact on people and their families.
"Also, in shared rooms if one person has an infection all the other beds in the room have to be closed."