East Anglian towns square up for 'oldest' title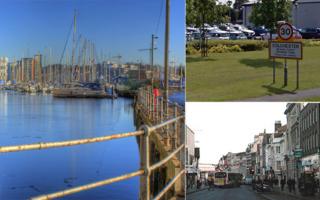 Signs on the main roads into Colchester in Essex proclaim it to be "the nation's oldest recorded town".
The claim rests on a reference to Camulodunum (Colchester) by the Roman writer Pliny the Elder in AD77.
But Ipswich, 17 miles up the A12 in Suffolk, claims it is the nation's "oldest Anglo Saxon town".
The similarity in wording is enough to irk some in Colchester into suggesting their neighbours find another selling point.
Tim Young, Colchester Borough Council's culture portfolio holder, said: "Colchester is Britain's oldest recorded town.
"I think Ipswich is trying to get a distinctive feature to its marketing.
'Continuously inhabited'
"But if there is any dispute, I think most historians would back Colchester's claim."
The Ipswich title is based on that fact it has been continuously inhabited since Anglo-Saxon times. The Suffolk suggestion is that after the Romans left, Colchester was abandoned and so ceased to be a town.
But Mr Young, a keen Ipswich Town supporter, believes that might not be the case.
"There is evidence the Anglo Saxons lived in the ruins and when the Normans arrived, they built our castle," he said.
"I have great affection for Ipswich - I've had some of my best moments on the stands of Portman Road - but Ipswich has its own distinctive features."
He said he would prefer it if Ipswich did not use the words "oldest" and "town" together.
Max Stocker, of Ipswich Borough Council, said it would not be budging on its "oldest Anglo Saxon town" wording.
'Gentle sparring'
"We accept that Colchester is the oldest Roman town and older than ourselves," he said.
"But we are the oldest Anglo Saxon town because they came here before they went to Colchester.
"We think having two historic towns in the region has to be a good thing."
And if Colchester persisted in "gentle sparring", Mr Stocker warned he would be forced to refer to geology. In particular, the "Ipswichian Interglacial Stage", the name given to a period during the Ice Age, dating to between 115,000 and 150,000 years ago.
"We have our own interglacial stage," said Mr Stocker. "Colchester, to the best of my knowledge, does not."
The East Anglian rivalry has left the Berkshire town of Thatcham unimpressed. Thatcham is listed in the Guinness Book of Records as the UK's "oldest continuously inhabited settlement".
Dr Nick Young, of the Thatcham Historical Society, said "oldest town" debates were "a nightmare topic".
He said numerous towns, including Newbury, could claim to date back to the Anglo Saxons. As for Colchester, he said, it was one of a number of Roman towns.
"What you need to look for is somewhere that can go back a lot further.
"In Thatcham - within about a one to two-mile radius of the town centre - we have Palaeolithic finds of 10,000BC or earlier."