West Midlands NHS 'could save 300 more' cardiac arrest victims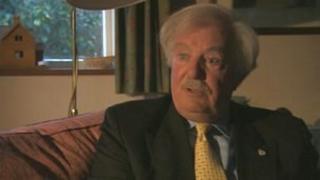 Cardiac arrest survival rates vary significantly in the West Midlands, according to hospital figures obtained by a former ambulance chief.
Roger Thayne, who was in charge of the Staffordshire Ambulance Service between 1992 and 2006, obtained data under the Freedom of Information Act.
He found survival rates ranged from 58% at Stafford Hospital to 10% at Walsall Manor Hospital.
A spokesperson for Walsall Healthcare NHS disputed the data.
The figures provided by West Midlands Ambulance Service (WMAS) were for patients who arrived in cardiac arrest between April 2011 and March 2012.
Amir Khan, medical director at Walsall Healthcare NHS Trust, said the data set appeared to be incomplete.
He said: "It is also important to recognise patients presenting with cardiac arrest may be transferred on successful resuscitation to another specialist provider.
"We have looked at our own data for the period 2011-12 where 105 patients are recorded as arriving in cardiac arrest at accident and emergency.
"Of these, 19% were successfully resuscitated which is on par with the national level of 20%."
Mr Thayne, who resigned in 2006 in opposition to plans to create a new regional emergency service in October 2007, said he believed access to intensive care beds and cooling therapies may be a factor.
He said on average 33% of patients were expected to survive a cardiac arrest if the ambulance service managed to restart the heart, achieve a 'return of spontaneous circulation following resuscitation' (ROSC) and get the patient to hospital.
Figures from the Queen Elizabeth Hospital in Birmingham showed six out of 39 patients who arrived with a heart beat survived, a success rate of 15%.
A hospital spokesperson said: "It should also be recognised that while cardiac arrest may have been recorded as the primary cause of death, there may have been contributory factors such as multiple injuries.
"As a Major Trauma Centre with multiple specialties co-located on one site, we receive the most seriously injured patients from across the region."
New Cross Hospital in Wolverhampton and University Hospitals Coventry and Warwickshire also performed better with more than a 40% survival rate.
The performance at Worcestershire Royal was average, with 33% survival rate, and neighbouring Hereford Hospital achieved 30%.
If all hospitals performed as the best hospitals - achieving a 50% survival rate - then, using the 2011-2012 figures, Mr Thayne has projected 300 lives a year could be saved across the West Midlands.