West Suffolk Hospital's breast unit funded by legacy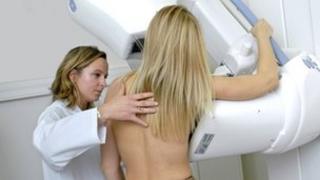 A new integrated breast unit at a Suffolk hospital is being funded by a legacy of £240,000 left in a will.
The West Suffolk Hospital in Bury St Edmunds will be spending the money on bringing two separate parts of the site together.
It will mean outpatients who are assessed for cancer will no longer have to then visit another part of the hospital for ultrasounds or mammograms.
The work on the new unit is due to be finished by the summer.
Eamonn Coveney, consultant breast surgeon, said: "Most patients have had to get undressed and dressed twice, possibly be told bad news and then travel through the corridors to get to other parts of the hospital.
"The patients will hopefully have a single one-stop experience."
'Magnificent legacy'
The money will be spent on a new waiting room and four clinic rooms in what is currently the imaging department.
The hospital said the integration would also free-up four clinic rooms for other uses.
The legacy, from an anonymous donor, was left to the Friends of West Suffolk Hospital which decided it should be spent on the breast unit.
Treasurer Sarah Steele said: "This magnificent legacy will make a real difference to patients and we are delighted that work on the unit has now begun."