Hereford stabbings linked to Peterborough man's murder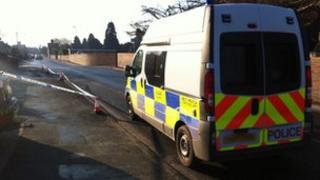 Police investigating two stabbings in Herefordshire are liaising with detectives working on the murder of a man in Cambridgeshire.
West Mercia Police arrested five people on suspicion of attempted murder after two men were stabbed in Hereford on Tuesday afternoon.
Two of those arrested were wanted in connection with the death of Kevin Lee, 48, from Peterborough, on Saturday.
Five people have now been arrested over the Cambridgeshire death.
One of them, Leslie Layton, 36, of Bifield, in Peterborough, was due at Peterborough's magistrates charged with perverting the course of justice over Mr Lee's murder.
'Extremely rare'
Supt Ivan Powell, from West Mercia Police, said the stabbings in Hereford occurred within 10 minutes of each other at two separate locations.
The force was notified that a man in his 60s had been stabbed in Westfaling Street shortly after 15:40 BST.
The victim is said to be in a stable condition in hospital.
Police were called to the second stabbing at the junction of Hunderton Road and Golden Post.
The victim, in his 50s, remains in a critical condition.
By 16:12 BST a man in his 40s and a woman in her 30s had been arrested in the city.
Three other men were later arrested in the village of Almeley.
Supt Powell said: "Incidents of stabbing of this nature and this severity are extremely rare and I would reassure all members of the public that we are confident that we have apprehended all of those people involved in these two offences.
"We always keep an open mind but there are no apparent links between the two victims and there are no apparent links between the offenders and their victims.
"We're working very closely with our colleagues in Cambridgeshire Police.
"They are conducting their own murder inquiry and it's inappropriate for me to expand on those details at this time.
"We will make sure that the attacks on those victims in Herefordshire are investigated robustly and efficiently alongside the inquiries being conducted by Cambridgeshire."