Oxford exploitation trial: Accused 'thought girl was 17'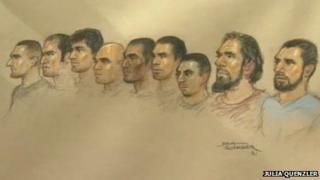 A man accused of being part of a child sex ring in Oxford has admitted having sex with an under-age girl, but told a court she had said she was 17.
Assad Hussain, 32, is one of nine men on trial at the Old Bailey accused of grooming, raping and exploiting six girls, aged 11 to 15, over eight years.
Mr Hussain denies rape and two charges of sexual activity with a child.
He admitted he had sex with one of the girls twice, who was just 14 years old and in the care of a children's home.
The teenager, known in court as girl five, denies telling him she was 17 and says she cannot remember having sex with him.
But Mr Hussain told the court a friendship had developed between them and that she later told him she was 17.
"There was a mutual attraction. She was fun to be around," he said.
DNA on underwear
Prosecutor Neil Moore asked: "And nothing she said or did ever made you suspect she was younger than 17?"
"No," he replied. "I'd always thought she was much older - maybe 19 or 20."
When Mr Moore told him he had an "unhealthy interest in teenage girls" Mr Hussain replied: "That's not true at all."
He said he "felt betrayed" when he was arrested and discovered her real age.
Mr Hussain, who worked at the BMW car plant and Dominoes Pizza in Cowley, was arrested after DNA was found on the girl's underwear, the jury heard.
He also denied knowing another of the victims, who has told the court he raped her.
The accused men, from Oxford and Berkshire, deny 47 offences, including rape, trafficking and organising prostitution of under-age girls from 2004 to 2012.
They had originally faced 51 offences but some charges were amended, added and dismissed under the direction of the judge last week.
The trial is expected to last until May.
The defendants are:
Kamar Jamil, 27, formerly of Aldrich Road, Oxford
Akhtar Dogar, 32, of Tawney Street, Oxford; and his brother Anjum Dogar, 30, of Tawney Street, Oxford
Assad Hussain, 32, of Ashurst Way, Oxford
Mohammed Karrar, 38, of Kames Close, Oxford; and his brother Bassam Karrar, 33, of Hundred Acres Close, Oxford
Mohammed Hussain, 24, of Horspath Road, Oxford
Zeeshan Ahmed, 27, of Palmer Road, Oxford
Bilal Ahmed, 26, of Suffolk Road, Maidenhead