Bispham High School's head teacher and governors resign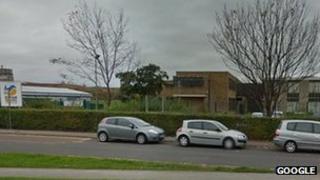 The head teacher and the full board of governors have resigned from a Lancashire school facing closure.
Bispham High School which was criticised in a recent Ofsted report is due to merge with Blackpool Collegiate High School to form a new academy.
It is not yet clear why the head and the 12 governors resigned or when the academy is earmarked to open.
An interim board of governors has been put in place and assistant head John Topping is acting head teacher.
'Extremely challenging'
Head teacher Margaret Singleton and all 12 governors left with immediate effect, the council confirmed.
In February, Ofsted put the school in special measures after describing it as "inadequate".
In a letter to parents of pupils, Mr Topping: "My leadership team and I will continue to work to ensure that the pupils and the staff are supported through these challenging times."
Councillor Sarah Riding accepted that the school was going through and "extremely challenging time".
"The changes to the leadership and governance of the school give us an opportunity to start afresh and tackle the challenges head-on," she said.
"I'm sure the staff at Bispham are as committed as we are to improving the standards at the school ensuring the best outcomes for Blackpool children and young people."
Refurbishment ruled out
Blackpool Council named Blackpool Collegiate High School as the preferred site for the academy because the Bispham site would require about £6m to bring the buildings up to an acceptable standard.
The council said it asked the government for funding to refurbish the site and it was refused.
The government has pledged £10m but the council said it had to be spent on a new academy and not on refurbishing an existing school.
Governing bodies are due to meet at a date yet to be confirmed to make their final decision on the site.
Bispham, which has about 900 pupils, is the former Greenlands High School for girls.