Chamonix police deny UK ski clampdown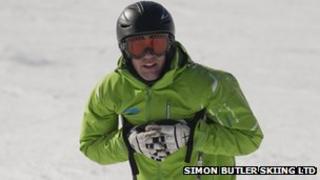 A British man who runs a ski company in the Alps has claimed French police are clamping down on UK instructors to keep jobs for locals.
Simon Butler said he may close his business following the "absolutely unbelievable" arrest of his instructor Alex Casey, 40, from Ascot, Berkshire.
Mr Casey was arrested at Megeve ski station on Tuesday for not having the correct qualifications.
A Chamonix police spokesman denied there was a clampdown.
Mr Casey, who grew up in Folkestone, Kent, was questioned because he lacks the top-level Eurotest qualification, which can only be earned after completing a challenging slalom run.
While instructors can work for the national agency L'Ecole du Ski Francais without this award, those employed by independent companies are required to have it.
Mr Casey, who has worked in the resort for 12 years and could now face a three-month prison term, insists he has several other "internationally-recognised qualifications".
'Shutting up shop'
He said he was "one of the best instructors on this mountain".
Mr Butler is appealing against his own three-month suspended sentence for employing instructors without licences.
The 50-year-old has run his company from Megeve, in the Haute-Savoie region, for more than 30 years.
He said: "It was peaceful until last summer and now they're after all of us.
"It's totally put me off doing business in France. We are thinking about shutting up shop and moving back.
"Can you imagine telling French people they can't work in England?"
Mr Casey and Mr Butler are due to appear before local magistrates on 13 June.
The Foreign Office said it was offering consular assistance.
A spokesperson for Chamonix police, which patrols the skiing valleys, said: "It is absolutely not a clampdown on foreign ski instructors as has been reported in some parts of the English media."
The Eurotest was agreed by 10 countries in March 2000 but some ski instructors have continued to teach without it.
The Chamonix police spokesman said Mr Casey was told to stop instructing 10 years ago.
Dave Renouf, corporate affairs manager at the British Association of Snowsports Instructors (BASI), said: "In France, snowsports teaching is a regulated profession by the government.
"As the UK body responsible for the training and grading of snowsport instructors, BASI has an internationally recognised teaching system with four levels, the highest being BASI Level 4 [which] is recognised in France as the required level which instructors must obtain to teach skiing professionally in a French ski resort.
"One of the many modules required to reach [this level] also involves successful participation in a Eurotest.
"BASI instructors qualified to level 2 or 3 are able to work within a government recognised ski school having first successfully completed a compensation test. This checks their technical competence and is a test which all French nationals have to pass before being able to start an instructor apprenticeship."