Oxford exploitation trial: Accused says he was blackmailed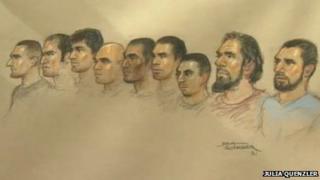 A man accused of raping and prostituting children has told a court he was blackmailed by one of his alleged victims.
Mohammed Karrar said he met the girl twice while visiting a friend and later received a phone call accusing him of being a rapist.
Mr Karrar, 38, said the alleged victim and a male called him and demanded £500 to stop them approaching police.
He told the court he had never had any sexual contact with the girl.
Mr Karrar is one of nine men on trial for allegedly grooming and sexually exploiting children in Oxford.
They all deny the charges.
In court Mr Karrar said he met another of the alleged victims in 2007. He said she told him she was 20.
He described how they met a few times and said she once performed a sex act on him.
He denied having any other sexual contact with her, trafficking her, or asking her to have sex with other men.
He told the court he "had no idea why they [the two alleged victims] are making these allegations up".
During cross examination Noel Lucas QC, prosecuting, said: "So it is your case these two girls came along here and gave evidence for days on end about intimate personal details and every word of it concerning you was a complete lie?"
Mr Karrar replied: "Yes."
The trial is expected to last until May.
The defendants are:
Kamar Jamil, 27, formerly of Aldrich Road, Oxford
Akhtar Dogar, 32, of Tawney Street, Oxford; and his brother Anjum Dogar, 30, of Tawney Street, Oxford
Assad Hussain, 32, of Ashurst Way, Oxford
Mohammed Karrar, 38, of Kames Close, Oxford; and his brother Bassam Karrar, 33, of Hundred Acres Close, Oxford
Mohammed Hussain, 24, of Horspath Road, Oxford
Zeeshan Ahmed, 27, of Palmer Road, Oxford
Bilal Ahmed, 26, of Suffolk Road, Maidenhead