Brintons Carpets investment 'fantastic for industry's future'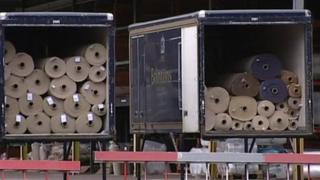 A £3m investment announced by a carpet firm is a "godsend" which will enable it to supply major buildings and cruise liners, according to a former worker.
Mike Hardiman worked for Brintons Carpets for 35 years and said it was "fantastic" the manufacturer has announced the major investment.
"I think that it's a good news story, when we've had probably nothing but bad news stories for the last 20 years really," he said.
The 230-year-old firm, based in Kidderminster, Worcestershire, said it is mainly putting the money into new equipment it has developed.
The new loom produces high-definition weave carpets from photos for an international market and can feature up to 32 colours instead of the conventional eight.
The company said the investment at factories in Kidderminster and Telford would help safeguard 500 jobs and hopefully create opening for more workers.
At the height of Kidderminster's carpet industry, the town had 25 factories and employed about 15,000 people.
Recovery on horizon
Mr Hardiman said: "Brintons were always one of a handful of companies in the world that could handle really big projects like the Hong Kong airport and so on, so it will restore their reputation I'm sure.
"I don't think it'll do very much for the UK retail sector, but for that specialist contract sector it will be a godsend.
"They've [Brintons] been working on this for some years now and what it does mean is that architects can come along and have carpets that are specially made for them, very very quickly.
"It is ideal for the hospitality sector, hotels, convention centres and cruise liners."
The news has been welcomed after a difficult 18 months, which included job losses in Kidderminster and Telford.
Brintons Carpets was bought out by The Carlyle Group in 2011 to secure its future when it had debts of £20m.
Gavin Miller, campaign manager for the Community Union, which represents Midlands textile workers, said he "applauded" the managers for putting the investment into the UK.
He said: "It's not looking doom and gloom, it's looking like there's some recovery on the horizon. It's good, it's positive, the industry has had such a bad run.
"We're not talking years, we're talking decades, but we need to take positive news and we really need to expand on it.
"The industry is growing, the industry has got a voice, it's all small acorns, but you've got to start somewhere. This industry can't decline any further, let's get it growing again."
Brintons also plans to expand its spinning facility in Telford following the decision by Axminster Carpets to close its operation in Buckfast and sell off equipment.
It's yarn processing capacity will increase by more than a third to support the company's sales growth plans.
Managing director Don Coates said: "We've won round one, we're profitable now, we've got cash in the bank and we can afford to make investments in the future."