Coastguards warn coasteerers on unsupervised rock jumps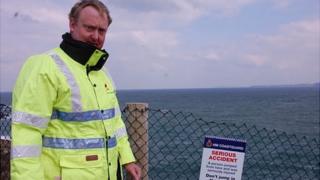 People who go on paid coastal rock scrambling and jumping courses are being warned by coastguards not to repeat the activity unsupervised.
The warning follows a number of rescues which have involved people with broken limbs and one with a damaged spine.
Coasteering, as it is known, is an outdoor pursuit along the tide line of rocky coastal areas.
The British Coasteering Federation said people should only attend pre-organised trips and not repeat it unsupervised.
Matt Pavitt, the Maritime and Coastguard Agency's (MCA) North Cornwall sector manager, said that last year staff dealt with "a number of incidents" where people had been coasteering and had then repeated the activity by themselves.
"One young lad jumped off a cliff and ended up with a broken arm.
"Another person went to hospital with suspected spinal injuries."
He added that it was "an increasing problem".
'Lose your life'
Jumping unsupervised into the sea from places including cliffs and harbour walls is known as tombstoning.
Across the UK, in the five years up to August 2012, there were 18 fatalities and 57 serious injuries, the MCA said.
In 2008, Sonny Wells, who was 20 at the time, jumped 30ft (9m) from a Hampshire pier into 3ft (90cm) of water.
Although Mr Wells, from Waterlooville, Hampshire, had not been coasteering, his jump left him paralysed.
"It's turned my life upside down to be honest. It's just one silly little mistake and it's cost me a hell of a lot. It's not worth it."
Last year, the MCA installed about 20 warning signs at tombstoning hotspots in Cornwall, including at Towan Head, in Newquay, in a bid to reduce serious injuries and deaths.
In previous years, police in Plymouth, in Devon, and Folkestone, in Kent, were given powers to target groups of youngsters who were leaping from cliffs and harbour walls.
Mr Pavitt said: "It [unsupervised scrambling and jumping] may seem like a fun activity, but you could end up spending the rest of your life in a wheelchair or losing your life.
"Go [coasteering] with the proper guys and use the proper kit.
"Turning up in a pair of shorts and a T-shirt and throwing yourself off a cliff when you're not equipped and you don't have that back-up [guides] really is something we would urge people not to do."
David Harriss, chairman of the British Coasteering Federation, which is based in Newquay, said companies had repeatedly told customers they could not do the activity by themselves.
"We explain to customers that guides have a lot of training before taking people out.
"The training lasts for a minimum of a year. The guides learn about tides, swell, first aid, are involved in different scenarios and learn how to prevent an incident, as well as gaining experience in different locations.
"It's so important for people not to do it unsupervised."