Leeds child heart surgery to resume on Wednesday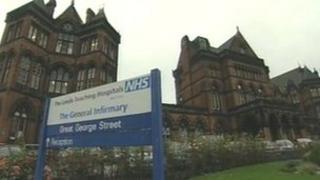 Children's heart surgery at Leeds General Infirmary (LGI) is to resume on Wednesday, after operations were halted amid concerns over death rates.
Operations were stopped more than a week ago after it was claimed data showed higher-than-usual death rates.
It was announced on Friday that surgery would restart "subject to independent validation of the clinical data".
Further analysis of case notes, complaints and referrals at the LGI would be carried out, said NHS England.
A "phased resumption" of children's heart surgery at the hospital would begin on Wednesday, starting with lower-risk cases.
'Uniquely poor'
The move followed the end of the first stage of a review into the safety of the unit.
During that part of the review, assurances had been received from independent experts about the quality of surgery and staffing levels that were sufficient to allow the phased resumption of operations, said NHS England.
However, "significant improvements" were necessary to the way the unit at the LGI monitored the quality of care there.
The review found that Leeds Teaching Hospitals NHS Trust's data for monitoring the outcome of surgery had been "uniquely poor".
The second stage of the review into safety at the unit would now begin looking at other areas where improvement may be necessary, said NHS England.
Those areas would include a review of the way complaints from patients were handled at the unit and the completion of a review of patients' case notes over the last three years.
Sir Bruce Keogh, medical director of NHS England, said: "We now need to explore some of the wider issues around how the unit operates as a whole.
"I hope we will soon be able to give the unit a full clean bill of health beyond this immediate reassurance of safety."
Maggie Boyle, chief executive of Leeds Teaching Hospitals NHS Trust, said she was "delighted" to reopen the unit after the independent review of staff and services and apologised for the "upset and worry caused".
She said: "Our partners and ourselves are now in a position to reassure those families coming to Leeds for treatment that our hospital is as safe as any children's heart surgery centre in England."
Sharon Cheng. from Save Our Surgery - the group which is co-ordinating the fight to keep children's heart surgery in Leeds - said: "First and foremost, I'm absolutely thrilled that this centre is reopening.
"In my opinion it's open, whether you use the word phased or not this centre is clearly open.
"I know that eminent bodies have been in the hospital going through a robust, rigorous process this weekend and I believe that that process has been fulfilled and that's why this centre is open."