Devon and Somerset fire cut plans 'unacceptable and dangerous'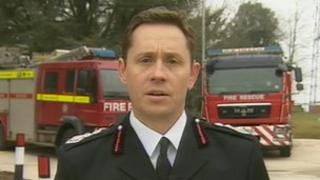 Proposed cuts to the Devon and Somerset Fire Service are "an unacceptable and dangerous package which should be dropped immediately", a report says.
Proposed cuts include making some full-time crewed appliances part-time.
The Fire Brigades Union (FBU) report, obtained by the BBC, describes the proposals as "the biggest cuts to frontline fire and rescue in Devon and Somerset in living memory".
Chief fire officer Lee Howell said safety would not be compromised.
'Sense of betrayal'
The fire service is losing 17% of its government grant over the next two years, meaning it has to find £5.5m-worth of savings.
Under the plans, fire appliances in Plymouth - at Plympton, Plymstock and Camel's Head - will be on call rather than crewed full-time.
The city's aerial ladder platform crew will also become on call instead of full-time.
In north Devon, Ilfracombe's fire station will be cut from all-day crewing to just on call.
Second fire engines in Torquay in south Devon and Taunton in Somerset will be cut from full-time to on call.
Bob Walker, chair of the FBU in Devon and Somerset, said cuts should be targeting support staff.
"Those numbers keep rising while people riding on fire engines keep dropping," he said.
"They should go back to the drawing board and find a different way of saving money."
Mr Howell said the proposals were "balanced" and "evidence based".
The total number of incidents in Plymouth had dropped from 4,104 in 2007/8 to 3,003 in 2011/12.
"The cost of a full-time fire engine is about £1m a year," he said.
"The cost of an on-call fire engine is about £100,000 a year.
"So we can keep the same type and number of fire engines but do it at a much reduced cost."
He rejected accusations that the cuts would cost lives.
"We save lives, not by getting there quicker, although that is key, we save lives through prevention and that is why fire deaths are at their lowest level nationally for 10 years."
He added that backroom staff involved in fire prevention, accountancy and development of a new fire engine were "absolutely vital to the effectiveness of the service".
The fire service is running a public consultation on the plans. It ends on 22 April.