Killer Alan Houchin's compensation claim blocked by judge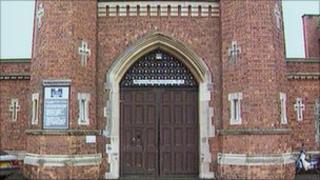 A convicted killer and rapist who was moved from an open prison to tougher jail conditions has had his claim for compensation blocked by the High Court.
Alan Houchin, 74, was jailed for life in 1965 for strangling a 16-year-old waitress in Margate, Kent.
He was released on licence 11 years later, but was then jailed for nine years in 1979 for a rape in Folkestone.
Mr Justice Supperstone said his claim against Lincolnshire Probation Trust had "no real prospect of success".
Houchin, one of the UK's longest-serving prisoners, was transferred to open conditions at HMP North Sea Camp in Lincolnshire in April 2006 after the risk he posed to the public was assessed as "medium".
However, by October the assessment had risen to "high", and in April 2008 to "very high".
As a result, he was transferred to closed conditions at Lincoln Prison.
Michael Gilbert, then acting lifer manager at North Sea Camp, reported that Houchin remained "in denial" and his continued presence at the open prison was "untenable".
Houchin launched his compensation claim against Mr Gilbert's employers, Lincolnshire Probation Trust (LPT).
'No credible motive'
He claimed his "abrupt and unlawful" removal from open conditions was the result of Mr Gilbert "deliberately distorting" the case against him without having regard to the "actual risk" he posed to the public.
Houchin based his claim on Parole Board criticism of Mr Gilbert in 2009, when a panel concluded the decision to return him to closed conditions was "flawed, unreasonable, ill motivated and invalid in a public law sense".
Mr Justice Supperstone disagreed and said there was "no credible motive that would have led Mr Gilbert to have acted maliciously, and there is no evidence that he was motivated by malice".
Houchin was transferred to Lindholme open prison in May 2012 after winning a separate legal action over the Justice Secretary's refusal to accept the Parole Board's recommendation that he be returned to open conditions.