Canon Gordon Rideout denies abuse at children's home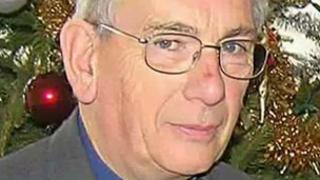 A retired Anglican priest accused of 37 sex attacks against children used to wander a children's home unaccompanied and visit the dormitories, Lewes Crown Court has heard.
Canon Gordon Rideout, 74, Polegate, East Sussex, denies 35 indecent assaults and two attempted rapes.
Thirty two of the charges relate to his time as an assistant curate in Crawley, when he would visit a West Sussex home.
He is accused of abusing boys and girls there between 1962 and 1973.
Prosecuting, Philip Bennetts QC said: "It would appear from the evidence that he would wander the house and indeed the grounds unaccompanied, and he would visit children when they were sick and alone in bed."
'Children not believed'
Mr Bennetts said: "One of the questions that inevitably is asked in cases of this nature, when you're going back such a long time in the past, is why complaints weren't made at the time.
"You will hear in the evidence in this case that a child's word was not believed.
"Indeed, on the occasion that a young child was brave enough to complain, you'll hear that they were beaten."
Canon Rideout, of Filching Close, who was ordained in 1962, is accused of abusing more than a dozen girls and boys at the home between 1962 and 1973.
Some of the children were as young as five, jurors were told.
The charges include claims of indecent assaults of a boy at a home in Barkingside, London, and two girls in Middle Wallop, Hampshire, where the defendant was an armed forces chaplain.
He is also accused of twice attempting to rape a teenage girl who attended choir practice.
Jurors have been told Canon Rideout was acquitted by a court martial in 1972 over claims of indecent assault.
The case continues.