MP Ronnie Campbell stays away from Thatcher tributes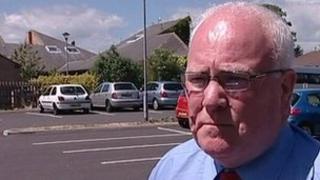 A North East MP has said he would rather sit "in a torture chamber" than in the House of Commons during special tribute debates to Baroness Thatcher.
Ronnie Campbell, the Labour MP for Blyth Valley, said he would not attend when Parliament reconvenes later.
Foreign Secretary William Hague said it was right to commemorate a leader of "historic proportions".
The funeral of the UK's first female prime minister will take place in London next Wednesday.
During Lady Thatcher's tenure as Conservative prime minister from 1979 to 1990 she oversaw the closure of dozens of coal mines - leading to thousands of job losses - and the year-long miners' strike.
Mr Campbell, a former mineworker, said: "I will not be glorifying her death, I wouldn't do that to anyone.
"But I'm not going down to Parliament to hear Tory MPs heaping praise on her. I'd rather be in a torture chamber than sit there and listen to that."
Mr Campbell also questioned the cost and nature of the funeral arrangements.
"The cost is enormous and when you're in this time of austerity we could do a lot with that money," he said.
'Colliery band'
Miners in County Durham are holding a party on the day of the funeral, which coincides with the anniversary of the pit's closure.
The colliery in Easington, the setting for the film Billy Elliott, shut with the loss of 1,400 jobs in 1993.
Alan Cummings, chairman of the Durham Miners' Association, said: "She couldn't be cremated on a better day.
"We are planning to have a colliery band and we are inviting ex-miners and their families to go back over their memories of the strike and what has happened since the closure of the pit."
Asked whether he thought the event was in poor taste, Mr Cummings said: "We can understand why people are happy and rejoicing that she has gone because they remember these communities have never recovered."
Tony Blair, former Labour Prime Minister and MP for nearby Sedgefield, has condemned such parties.
"You've got to, even if you disagree with someone very strongly - particularly at the moment of their passing - show some respect," he told the BBC.
Speaking on BBC One's Breakfast programme, Mr Hague, a former Conservative leader, said: "It's right Parliament meets and commemorates such a leader of historic proportions in our country's history."
Lady Thatcher, who won three successive general elections, died "peacefully" on Monday after suffering a stroke while staying at the Ritz hotel in central London.