National Union of Students elects Toni Pearce as new president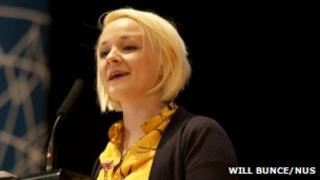 The National Union of Students (NUS) has elected a new president.
Toni Pearce, 22, from Camborne, was chosen to represent more than nine million students at the organisation's conference in Sheffield.
Miss Pearce received 424 of the 732 valid votes cast (58%) at the union's annual conference.
She was previously the NUS Vice President for Further Education (FE) and served two years as Cornwall College Students' Union President.
Miss Pearce said she was proud to have been given the opportunity.
"Between now and 2015 we need to hold a full and frank debate about what education means to society and to properly articulate the public value of education in communities up and down the country," she said.