Redditch site death was 'start of nightmare'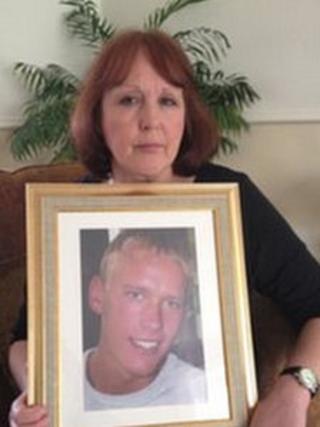 The mother of a 22-year-old engineer killed on a building site three years ago said she was still struggling to come to terms with his death.
Mark Handford, of Solihull, died when he was hit by a digger bucket in Redditch on 12 August, 2009.
Jonathan Gold, 48, of Coleshill, pleaded guilty to failing to ensure the safety of a non-employee and was given a suspended seven-month sentence.
Mrs Handford said she found it hard to accept she would not see her son again.
"I can't believe that it's forever," she said. "It just feels temporary at the moment. But I know it's true."
Gold, who was self-employed, was sentenced under the Health and Safety at Work Act and was also ordered to do 200 hours' unpaid work.
The hearing at Birmingham Crown Court was told Mr Handford had been working for the same construction firm since he was 17 and enjoyed his work, his mother said.
He was living at home at the time and was a fitness fan who did weights in his room and played football for Damsonwood Blues, who now hold an annual match in his memory.
Mrs Handford said: "He went off to work at 7 o'clock. It was a normal day."
But about 16:00 BST, the couple heard a knock at the door and were greeted by family friends who ran the construction firm and two policemen.
Mrs Handford said: "I don't think I took it in straight away but as soon as I looked up and saw the police there, I knew Mark was dead.
"That was the start of it. I had to phone my daughter, who lived in Scotland at the time, I had to go and tell my mum and my dad and phone up friends.
"That was the start of the nightmare".
Memorial day
Mrs Handford said it was "horrendous" without her son and it was very difficult to move forward.
"People say time heals but that's not true. It gets worse really because you miss him more," she said.
She said after his death the family received hundreds of letters from people who wanted to say he was a "lovely lad".
"He was very gentle, kind and loving," she said.
"He'd never given us a moment's trouble all his life. He was perfect really.
"He was just a good little boy and he grew up to be a fantastic man. We are very, very proud of him."
Mrs Handford said it made it harder not knowing exactly how her son died.
"You don't expect to go to work and never come back. You should be safe at work and Mark was very, very safety conscious.
"We don't really know what happened that day."
The family will be attending a Workers Memorial Day at St Philip's Cathedral in Birmingham on 28 April, which will remember people killed in the workplace.