Lord Adonis reveals plans for North East economy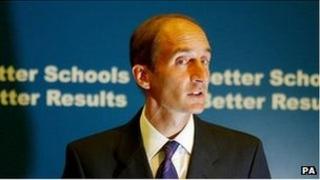 A major review of the North East's economy has urged political leaders to put young people "on the road to a job, not the road to the dole".
Labour peer Lord Adonis has set out a plan for investment in apprenticeships and higher standards in schools.
Councils are also being urged to merge for functions including transport.
The report was welcomed by business leaders but Tees Valley Unlimited (TVU) said there had been a lack of input from the south of the region.
TVU chairman Sandy Anderson said authorities south of Durham had been given little "opportunity" to contribute.
'Kick start'
Lord Adonis' report More and Better Jobs: North East International was commissioned by the North East local enterprise partnership, comprising representatives from councils between Northumberland and Durham.
The seven authorities are being urged to combine and work more closely together on transport, skills and regeneration projects.
Lord Adonis said a combined authority should be set up no later than next April.
He said: "Its immediate priorities should be youth apprenticeships, the introduction of smartcard ticketing like London's Oystercard to make bus and metro travel easier and cheaper, and support for companies particularly in growth sectors like automotive manufacturing, marine services and life sciences."
James Ramsbotham, chief executive of the North East Chamber of Commerce, said an action plan should now be developed to "kick start" economic growth.
CBI North East director Sarah Green welcomed the focus on education standards and international trade.