Mercian Regiment to get new colours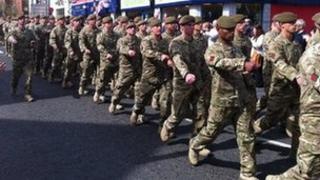 The Mercian Regiment is to be presented with new colours for the first time, the Army has said.
The regiment was created in 2007 through the merger of three single battalion regiments and the creation of a reserve one.
Each battalion has since served under its old colours, but they will all adopt the new ones in the summer, the Army said.
The new colours will be presented at Worcester's Sixways Stadium on 6 June.
An Army spokesman said: "Colours are only presented every 25 years and this will be the first time that all four battalions of the regiment have been on parade at the same time to receive new colours."
The 22nd (Cheshire) Regiment, the Staffordshire Regiment and the Worcestershire and Sherwood Foresters combined as the Mercian Regiment as part of the Army's infantry restructuring plans.
The battalions' old colours will be used for the last time at the event in Worcester ahead of a service to consecrate the new colours.
The Army expects "large contingents" from all of the Mercian's battalions as well as regimental associations and cadet forces.
The event is open to families and friends of soldiers in the Mercian Regiment.