Leeds heart surgery: MP calls for committee inquiry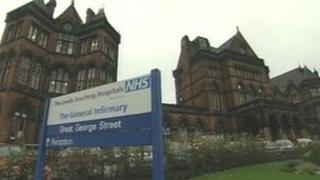 An MP is supporting calls for an inquiry into the circumstances that led to children's heart surgery being suspended at Leeds General Infirmary.
Surgery resumed on Wednesday after it was suspended on 28 March amid NHS claims the hospital had a mortality rate twice the national average.
MP Andrew Percy said a letter had been written to the Health Select Committee chairman calling for the "whole process" to be investigated.
He said it was "a complete mess".
Operations were suspended while a review was carried out into concerns about the number of deaths at the hospital because of information about higher-than-usual mortality rates.
'Treated appallingly'
But a senior doctor at the hospital later said the information was "incomplete" and that suspending surgery was wrong.
Experts questioned the accuracy of the data and at a meeting earlier this month, NHS bosses had decided to allow operations to resume on Wednesday.
Data from NHS England showed the unit at Leeds General Infirmary had similar death rates to two other centres but said the hospital came "very close" to an alert threshold.
Mr Percy, the MP for Brigg and Goole, who also sits on the Health Select Committee, said key figures in the decision-making process had to be questioned.
"Stuart Andrew [MP] has written to the select committee chairman asking for [it] to intervene on this and do an inquiry, or at least bring the key players before us and I, as a member of that committee, absolutely support that," said Mr Percy.
Mr Percy said families had received "dodgy data" and a lack of information about the whole process and the issue needed to be "aired publicly".
"The whole thing's been a complete mess," he said.
"One day it's not safe, the next day it is safe. I think people have been treated appallingly.
"The unit's reputation has been besmirched by this and I think the whole business is completely unacceptable."