Southern Water reveals plans for water bill social tariff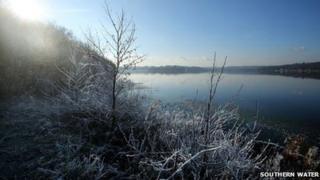 Plans for a "social tariff" to help vulnerable customers pay their water bills are being proposed by Southern Water.
The plans come weeks after the water company, which covers Sussex, Hampshire and Kent, raised household bills by more than 5%.
A spokeswoman from a Citizen's Advice Bureau in Kent said increasing numbers of people were struggling.
Southern Water customers face average bills of nearly £450 from this month.
Ann Valentine, from the Citizen's Advice Bureau in Tunbridge Wells, said: "Water bills are eye-watering, if you forgive the expression.
"The bills are are very high and people are struggling to find that money.
"We're seeing more and more people whose budgets just do not balance."
Darren Bentham, Southern Water's chief customer officer, said the company would work with local debt advisors and charities to offer a range of social tariffs.
"Things like utilities - and particularly water which is essential for life - I think we do have an obligation to make sure we get those bills right for that small group of customers who struggle to pay," he said.
A consultation into the plans is under way.