South West Trains spends £40m on fleet upgrade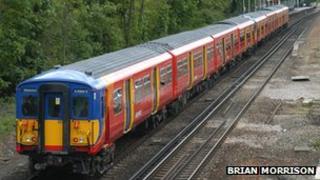 A train operator is spending £40m to upgrade 91 vehicles in its fleet.
South West Trains is fitting new and lighter traction equipment to its Class 455 trains and 100 more carriages will be introduced to its services.
Engineering director Christian Roth said the upgrades would improve reliability and deliver environmental benefits.
The fleet will be fitted at the depot at Eastleigh, Hampshire, with the prototype constructed in Wimbledon.
The upgrade will replace the existing DC traction equipment and motors with an AC traction system.
A company spokesman said the lighter units will reduce wear and tear on rails and have increased mileage.
The company believes passengers will notice benefits on the Metro area from London Waterloo to Reading, the Hounslow loop and the Shepperton branch.
South West Trains' routes go through Hampshire, Surrey, Dorset, Wiltshire, Berkshire, Devon, Somerset, and Greater London.
The project will be completed in spring 2014.