Ancient Yorkshire woodlands restoration works begin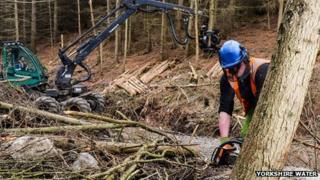 Work to restore ancient woodlands has begun at three locations across Yorkshire.
Under the scheme, non-native trees planted in the 18th and 19th centuries will be replaced with native species.
The work at Agden Reservoir Woods near Sheffield, Ridding Wood near Holmfirth, and Dallowgill Woods, Ripon, is expected to take two years to complete.
Ancient woodlands are defined as any area which has been under continuous tree cover for at least 400 years.
The £1m scheme is being carried out by the Forestry Commission, Natural England and Yorkshire Water alongside local experts.
Tree species such as larch, spruce and pine will be felled and replaced by native varieties such as oak, hazel, rowan, alder and holly.
Geoff Lomas, from Yorkshire Water, said ancient woodlands were the UK equivalent of the Amazon rainforests.
"It's hard to stress just how valuable they are both in terms of our heritage and from a biodiversity point of view," he said.
"Once an ancient woodland is lost, it's gone forever."
According to the Ancient Woodland Inventory, about 340,000 hectares (840,158 acres) of ancient woodland remain in England.