FA Cup Final evening kick-off 'ridiculous for north west fans'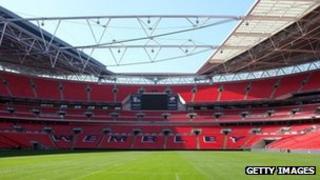 Football fans planning to travel to London for the FA Cup final have called the match's late kick off "ridiculous".
The tie between north-west Premier League sides Wigan and Manchester City on 11 May starts at 17:15 BST.
The last train from London Euston to Manchester on the night of the match is at 21:00 BST. The last train to Wigan is at 20:31 from the station.
Virgin said it was unable to put on extra trains and advised fans to leave the game early or stay overnight.
The FA said the later kick off time gives more people an opportunity to see the game and has proved popular.
Jason Taylor, Wigan Athletic Supporters Club spokesman, said the time showed "blatant disregard" to the fans planning to attend the match.
He said: "It won't affect us selling our allocation, we won't have a problem with that, but it just makes the day a lot longer and a lot more difficult for the fans that go.
'Crackers move'
"We are going to be using the same stretch of road to travel down, you could be talking up to 250 or so coaches all heading south, and they won't be getting back home until early in the morning."
FA Cup finals have traditionally kicked off at 15:00 but last year's final between Chelsea and Liverpool also kicked off at the later time, angering Liverpool fans who were also hit by engineering works on the weekend of the final.
Andrew Thomas, chairman of the Ashton-under-Lyne branch of the Manchester City Supporters Club, described the kick-off time of this year's final as "crackers".
He said: "It is a game between two north-west teams - fans will have a four-to-six hour journey to get there and the same to get back.
"With this late kick-off, anyone who was planning to travel by train will likely have to re-think because once the game is finished and you have had all the celebrations, people are not going to be leaving the stadium until gone eight.
"I would imagine they would struggle to get the last train back to the North West."
'Very popular'
Virgin said it made the FA aware that "because of the possibility of extra time and penalties, Wigan and Manchester City supporters will be unlikely to see the end of the match and catch any advertised return service back to Wigan or Manchester that evening".
A spokesman added: "The unpredictability of exactly when the match will end, coupled with the earlier close down of the route for essential maintenance and inspection means that the planning of any additional services is extremely difficult given the high numbers of supporters that would attempt to return to the North West that evening."
Despite trains to and from London traditionally being packed with thousands of football fans when major matches are taking place at Wembley Stadium, an FA spokesman said "only a minimal amount of fans" used trains.
He said: "The 5.15 pm kick-off time gives more people an opportunity to see the game and proved very popular last season.
"A post-5pm kick-off slot on a Saturday has been used regularly by both the Premier League and Football League for their televised fixtures for a number of seasons.
"We have been in dialogue with Virgin about travel options back to the North West since before the semi-finals although research shows that only a minimal amount of fans use this mode of transport when travelling to Wembley Stadium.
"National Express are the official coach partner of Wembley Stadium and their service was well received by fans at last season's FA Cup Final."
Wigan beat Millwall 2-0 to reach the final, with Manchester City defeating FA Cup holders Chelsea 2-1.