Ed Miliband campaigns using 'old fashioned' soap box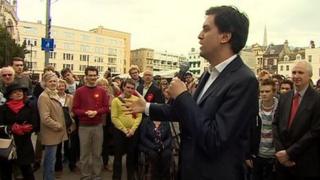 It was during the general election of 1992 that John Major discovered the value of a soap box. Now, 21 years on, the man who hopes to be our next prime minister is using the same idea.
Ed Miliband took to a soap box beside the Guildhall in Cambridge Market to try to sell Labour's message for this year's local elections.
"There's been three years of austerity and it hasn't worked and all they can offer is more of the same", he told a crowd of more than 100. "We are saying to people there is a different way forward."
A lot of his audience were Labour party supporters but inquisitive shoppers soon gathered and for 20 minutes Mr Miliband answered their questions.
He attacked the Pension Secretary Iain Duncan Smith who claimed he could live on £53 a week. A sign, Mr Miliband claimed, the government "was out of touch with what ordinary people are feeling".
He laid into the energy and rail companies who he said had ripped passengers off for too long and called Michael Gove's education reforms "just wrong".
Shouting at David Cameron
He was asked about the so-called bedroom tax, about how to get young people back to work, if he supported the plans to reopen the Oxford to Cambridge rail line and improve the A14 - he does - and what he thought of plans by the EU to ban neonicotinoid pesticides - he had to get his Labour MEP Richard Howitt to answer that one.
"I think the old way of doing politics is incredibly stifling and frankly not very enlightening for people," he later told the BBC.
"You can watch David Cameron and me shouting at each other in the House of Commons once a week, but it doesn't really teach people very much about where the parties stand.
"I want to do politics in a different way and that's why I'm coming to market squares and getting on my soap box. It's an old fashioned way of doing politics but I hope it's a way in which politicians can be more open to people and answer the questions people have on their minds."
But being a good politician he was careful not to commit to too much.
He wouldn't say how he would fund the improvements to the A14, he attacked the government's welfare reforms but wouldn't say where he would make cuts and he ducked our question about whether he would reinstate any of the cuts made by Conservative-run county councils in the region.
"I won't promise anything we can't deliver," he said.
Labour councils he insisted could still make a difference by paying people a living wage, protecting services and putting pressure on energy companies to reduce their bills.
Labour only has a handful of county councillors in the eastern region with just three in Cambridgeshire, but Mr Miliband believes his party's message will play well in this year's elections.
"I think even in more affluent areas people are worried about housing and whether their son or daughter can buy a house. They're worried about jobs for young people, they're worried about the cost of living so I think we have a message that speaks to people right across the country."