Cambridge beats Oxford in DfT cycling survey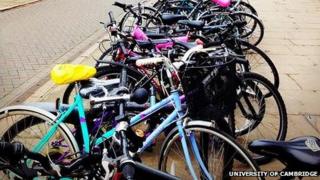 Cambridge has retained its "cycling capital of the UK" title after statistics from the Department for Transport were released.
Almost half of the city's adults, 47%, cycle once a week, beating "the other place", Oxford's 28%.
The figures are based on an annual Sport England survey for the year ending mid-October 2012.
Across the UK, about 10% of adults cycle once a week with 3% using their bicycles at least fives times a week.
"A large student population and a flat local landscape" contributed to the popularity of cycling in some areas, according to the survey.
However, the figures show a small decrease in the number of people cycling compared to data gathered the previous year.
Alex Plant, Cambridgeshire County Council's executive director for economy, transport and environment, said: "The statistics seem to show some reduction in cycling levels, but this doesn't seem to fit with what we are seeing locally.
"Although we are working within very tight financial constraints, we will continue to invest in cycling and walking provision where we can.
"We are confident that the numbers of people cycling and walking will continue to increase over time."
A spokesman for Cambridge Cycling Campaign, which lobbies for safer cycle routes, said: "It is good to see Cambridge still well ahead in cycling league tables.
"With relatively small... but consistent levels of extra investment, we could start to rival the cycling rates of cities in Denmark or the Netherlands."
According to the 2011 Census, about 2% of adults in England usually travel to work by bicycle, with the highest proportion, 18%, being in Cambridge.