Sticky agent could 'wipe out' generation of seabirds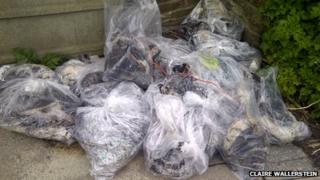 A generation of seabirds could be wiped out after hundreds have been washed up dead covered in a sticky substance, a wildlife trust has warned.
The RSPB said more than 700 birds had been affected in Devon and Cornwall by polyisobutene (PIB) since 10 April.
The death toll, just in Cornwall, could reach the "high hundreds", the county's wildlife trust has warned.
The Maritime and Coastguard Agency (MCA) said it was trying to determine the source.
In February, the same substance, which is commonly used by ships, affected more than 300 birds in the South West.
Jan Loveridge, of Cornwall Wildlife Trust's Marine Strandings Network, said she feared the incidents "could wipe out a whole generation of seabirds" after hundreds were found dead on Cornish beaches.
Tony Whitehead, of the RSPB, said more than 400 dead birds had been found in Cornwall since 10 April.
'Safe environment'
He said the impact of the pollutant on the next generation would not be apparent until after the breeding season and it was unclear how old most of the birds were.
Mr Whitehead said: "The charity fears for the health of seabird colonies following the incident.
"The birds now need a safe and secure environment to release them back into the wild."
He said during the past week, guillemots, razorbills and gannets had been found covered in the substance, but now terns, an Arctic skua and a great northern diver had also been affected.
Ms Loveridge said: "One bird has been found as far west as Falmouth, but most have been washed up in south east Cornwall."
PIB is used by ships to make their engines work more efficiently and can be released legally under certain conditions.
The RSPB has called for it to be reclassified and discharges of the substance to be outlawed.
The RSPCA, which has been rescuing and cleaning the birds, has called for a "proper investigation" to prevent a similar incident happening again.
The MCA said: "We are liaising with partner agencies to find out the extent of the problem and, if at all possible, to determine the source."