Northern League wins FA award for swearing scheme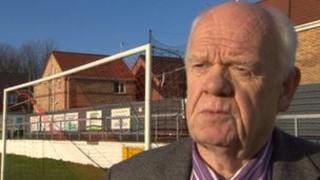 One of the world's oldest football leagues has received an award for sending secret assessors to matches in a bid to clamp down on foul language.
The Northern League has been recognised by the Football Association for its initiative that ranked clubs in a swearing league table.
Assessors visited clubs and scored them for language used on and off the pitch.
Chairman Mike Amos said North East clubs had led the way in tackling a "national curse".
Family supporters
The league has received a silver in the FA's annual respect and fair play awards.
"The award is really for all those guys who've endured the coldest winter in memory in order to keep our cards marked," Mr Amos said.
"We believe that gratuitously offensive language keeps many people, especially families, away from football and have invested a vast amount of time in trying to tackle it."
The league was formed in 1889, the year after the Football League.
Clubs from Northumberland, Tyneside, Teesside, County Durham, Cumbria and North Yorkshire compete in two divisions.
John Elliot, president of West Auckland and chairman of league sponsor Ebac, said the scheme had worked "very well".