'Pink ecstasy' linked to Rachel Clayton and Emma Speed deaths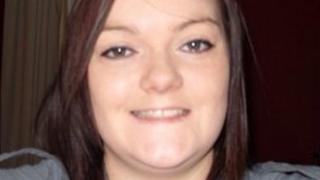 The ecstasy-like drug PMA may have been a "key factor" in the deaths of two women in Cheshire, police have said.
Rachel Clayton, 34, and Emma Speed, 30, were found dead at a house on Crompton Road in Macclesfield on 7 April.
Toxicology results found both had taken paramethoxyamphetamine, which is also known as "pink ecstasy".
The find has led police to warn people of the "potentially fatal consequences taking this drug can have".
A police spokeswoman said the use of PMA had also been linked to the death of a man who was found in a caravan in the town in February.
She added that there was "no evidence to suggest a link between the deaths".
'Potentially life threatening'
PMA, which is also called "Dr Death" or "Pink McDonalds", can be found in a tablet or powder form.
The pills are often pink with the letter M stamped on them, but can be white, and are around the same size and shape as an ecstasy tablet.
The spokeswoman said that although it resembled ecstasy, it is actually an amphetamine and "does not have the same effect or take effect as quickly".
"As a result, users may take more of them and consequently put themselves more at risk of a fatal overdose," she said.
Assistant Chief Constable Ruth Purdie said the force had a "duty" to warn people of the dangers of PMA following the deaths.
"While we would always urge people not to take any illegal substances, I am particularly keen to emphasise the dangers and potentially life threatening consequences of PMA," she said.
"We have now had three deaths which appear to be linked to the drug and therefore I feel I have a duty to warn people about the potentially fatal consequences taking this drug can have."