Epsom Downs Racecourse plaque to honour suffragette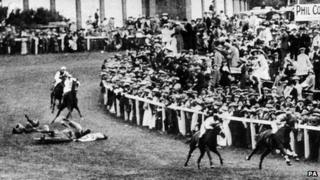 A plaque has been unveiled at Epsom Downs Racecourse by a relative of the suffragette who stepped in front of the king's horse in 1913 and later died.
Lauren Caisley, 19, said Emily Davison would have been proud of the honour, but would still "want to do more".
The teenager said many women around the world did not have a voice and every woman in this country should be voting.
On the centenary of Ms Davison's death, images of her and her cause will be shown on screens around the racecourse.
Ms Caisley, who is first cousin three times removed of Ms Davison, said her relative was an inspiration.
'Fought for beliefs'
She said: "Emily was a person who really fought for what she believed in. I'd like to think I have that trait as well. I'd love to think that I have some of Emily's traits and some of her blood running through my veins."
But she added: "I think she would be proud that people are recognising what she did for women, but I think she would still want to do more. She wouldn't give up. She would continue fighting for women, not just here, but all over the world."
Ms Caisley said she did not believe Ms Davison meant to kill herself that day, because she had bought a return train ticket, had been due to attend a gala, and was so close to her mother she would not have died without leaving a letter.
'Last-moment decision'
Epsom Derby historian Michael Church also said it was fair to say Ms Davison decided "at the last moment" to run in front of King George V's horse, as it ran in the Epsom Derby on 4 June that year.
He said she had already served seven prison sentences, but arrived at the racecourse with plans for a holiday with her family.
He also said Ms Davison would not have been able to see the progress of the race from where she stood.
"She stood about 10 yards back from the rail on Tattenham Corner. She couldn't see. It was the worst place to stand," he said.
"There was no loud speaker system at all. So all she had got to rely on is the thundering of the hooves."
Rupert Trevelyan, London Racecourses regional director, said the plaque was to mark both the centenary of Emily Davison and an important moment in suffragette history.
Ms Davison died five years before voting rights were given to women over 30 years old, and 15 years before women were granted equal voting rights with men.