RSPB says seabird deaths caused by 'worst PIB spill'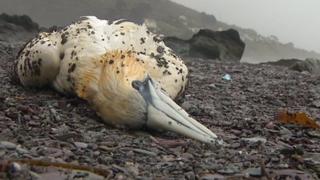 The RSPB has said a pollution incident which has killed more than 1,000 birds was the worst case involving polyisobutene (PIB) it was aware of.
Peter Exley, from the wildlife charity, told BBC News this was the "worst spill" involving the substance.
He said almost 20 species of bird had been washed up on the coasts of Devon, Cornwall and Dorset since 10 April.
The RSPB is calling for PIB, used in ship's engines, to be reclassified.
At the moment it can be legally released into the sea under certain conditions.
Mr Exley said: "For this particular chemical it's the worst spill that we've seen."
He said he hoped the pollution had "peaked" but that it was not known how many birds still at sea were affected by it.
The Maritime and Coastguard Agency (MCA) said it was trying to determine the source of the latest incident.
A previous spill in January affected at least 500 birds along the South West coast.
The MCA ended its investigation into that incident, admitting it was "highly unlikely" the ship could be found.
Mr Exley said that in 1994 hundreds of birds were affected in the Irish sea and in 1998, 1,100 birds were covered by the pollutant. In 2010 less than 100 were affected in the North Sea.
'Global responsibility'
More than 90% of the birds covered by the substance in the most recent incident have been guillemots.
Several razorbills, gannets, fulmars and puffins have also been found.
The charity said individual reports of 14 other species had also been made, including a Manx shearwater.
Peter Exley, from the RSPB, said: "The UK has 90% of the breeding population of Manx shearwaters, we have a global responsibility."
Mr Exley said the birds found washed up were a small percentage of those affected.
Nearly 250 live birds have been taken into care by the RSPCA and the South Devon Seabird Trust since 10 April.
Mr Exley said the RSPB did not know why so many birds had been affected, but more species would be closer to shore as they were returning to their breeding sites.
However, he added, it could just be a "much bigger spill".