Seven West Midlands ambulance stations up for sale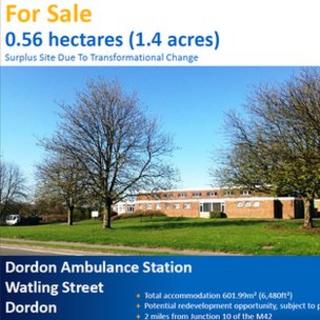 Seven West Midlands Ambulance Service stations have been put up for sale.
In the third wave of sales in the service's Make Ready scheme, asking prices range from £200,000 for Craven Arms ambulance station in Shropshire to £475,000 for Dordon, Staffordshire.
In Birmingham and Solihull another five ambulance stations have gone on sale.
Vehicle maintenance hubs and Community Ambulance Stations are being created in the £9.6m project "to ensure a faster response to 999 calls".
The hubs house teams of Ambulance Fleet Assistants who prepare vehicles for ambulances crews.
The crew will then be based at one of 30 Community Ambulance Stations, which will be leased rather than owned by the service.
A spokesperson for WMAS said: "When completed, the number of Community Ambulance Stations will be more than three-times that of traditionally owned stations to ensure a faster response to 999 calls."
Two hubs are already in operation in Shropshire and another has opened in the refurbished West Bromwich ambulance station.
In Coventry and Warwickshire new hubs are being built in Coventry, Nuneaton, Rugby and Warwick.
In Birmingham new hubs will also be created in Erdington and Northfield.
In Worcestershire two stations are being refurbished to become hubs at a cost of £1.45m.
Alternatives to other ambulance stations are "being planned", with assurances no station will be vacated until new premises are found.
Three ambulance stations in Shropshire and two in Warwickshire went on sale in January.