East of England Ambulance: Plan to recruit 350 staff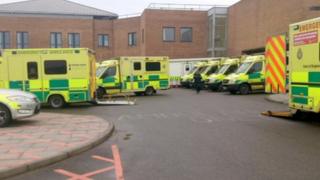 The East of England Ambulance Service has revealed plans to recruit more than 350 employees to improve patient care and staff morale.
The trust's "turnaround plan" lists measures including recruiting more paramedics, tackling sickness and restructuring management.
The trust was ordered to improve by the Care Quality Commission (CQC) after its response times deteriorated.
In reply, the trust admitted it was letting both patients and staff down.
The trust said it planned to recruit 82 specialist paramedics, 149 paramedics, 24 emergency medical technicians and 96 emergency care assistants.
It said £5m in "additional investment" would be used to finance for the new posts but has not provided any further details.
The recruitment drive, in addition to reducing staff sickness and its spending on private ambulances, would enable it to provide the equivalent of an extra 25 of its own double-staffed ambulances, available around the clock, the trust added.
'Learned helplessness'
Andrew Morgan, interim chief executive of the trust, said: "We need to improve the service we give to patients and better support our dedicated and committed staff.
"Transforming the organisation will take time but we have the staff and the focus to turn things around together."
Last month's CQC report found that the trust had met standards in four out of five categories, but not in the care and welfare of patients.
A week later, Maria Ball, chairwoman of the trust, resigned after five years in the post.
In its 20-page response to the CQC report, the trust said: "We are not delivering our 999 service, which is our core business, well enough.
"We are letting both patients and staff down.
"This is not acceptable and we need to completely transform the organisation to better support our patients and staff."
'Beggars belief'
The trust admitted to a "lack of clear and visible leadership from the board" and said there was a "learned helplessness" among some managers.
"There are too many managers and not enough management," it said.
Denise Burke, chair of North Norfolk Labour Party, said: "We cautiously welcome talk of further investment.
"More resources and staff will take time to materialise, so we hope the trust has a strategy to bring improvements now to avoid more of the horror stories we have heard from patients."
Norman Lamb, the Liberal Democrat MP for North Norfolk who is also a health minister, said: "For me it beggars belief that you come up with a turnaround plan days before they receive the report and recommendations from Anthony Marsh, the chief executive of the West Midlands Ambulance Service.
"It doesn't instil great confidence in me that they've got this right.
"They will be judged on their actions as to whether they can implement a clear plan."
Therese Coffey, Conservative MP for Suffolk Coastal, said: "It's very good news to hear about the extra staff planned.
"My concern is there's very little detail on how they will actually train these extra people through their sole education provider."