Cornwall farm burial murders: Pair 'unlawfully killed'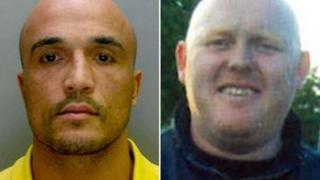 Two drug dealers found buried on a Cornish farm were unlawfully killed, a coroner has ruled.
Merseyside boxer Brett Flournoy, 31, and David Griffiths, 35, of Berkshire, were found buried in a burnt out van at Sunny Corner Farm, St Austell, in 2011.
The following year, Thomas Haigh, of West Yorkshire, was found guilty of murdering both men.
Ross Stone, who lived at the farm, was jailed for five years after admitting his part in burying the bodies.
During the trial, Truro Crown Court heard that Haigh, who was 26 when convicted, and Stone, who was 28 during the trial, blamed each other for killing the two men, to whom the defendants both owed money.
The disappearance of Mr Flournoy and Mr Griffiths did not go unnoticed and a major missing persons investigation was launched, which soon became a murder inquiry, codenamed Operation Garland.
The burned bodies of Mr Griffiths, a father of three originally from Plymouth who was living in Bracknell, and Mr Flournoy, a father of two from Merseyside, were found dumped in the back of their van buried at the farm.
The trial heard they had both been shot.
Cornwall Coroner Emma Carlyon recorded the verdict at their inquests in Truro.